Meet our Trainer:
Puppy School is run by our veterinary nurse and qualified dog trainer Tara Thomas. Starting out with the team back in 2005 as a Certificate IV Veterinary Nurse, Tara went on to gain a Statement of Attainment in Dog Training and Behaviour. Tara has also completed the Puppy School Instructors Course with Vicki Austin, considered to be one of the most renowned dog trainers in the country.
Tara continues to keeps herself up to date with new dog training and behaviour techniques and information through seminars, reading, working with mentors, training her own rescue dog 'Tully' as well as training foster dogs that come into her care.
At what age should a puppy attend school?
In light of understanding canine leaning and development, the timing of puppy school is vital. The critical phase of learning for a dog is between the ages of 3-12 weeks. This extends to 16 weeks for some areas of learning. Dog breeds and individuals can also vary. We recommend that your puppy joins a good puppy school before they reach 12 weeks of age. Ideally, you would start a course when your puppy is between 8-10 weeks old
What will your puppy learn?
During our program, puppies will meet new friends and owners learn new skills to teach when at home, on walks, around at a friends place or just general living with your newest furry friend.
Skills learnt will include Look at Me, Sit stay, Drop stay, Come to a Sit and some Heel work. We will also cover topics including effective communication with your dog, what are your dog's needs, plus building a good relationship with your dog.
Our practical classes also go through best management for leash handling and walking, exploring texture through obstacle courses, exploring sound with the Sound Proof Puppy Training app, as well as practising appropriate best handling for vet visits and grooming.
Your puppy will also associate visits to our hospital as a fun, positive and social place, rather than being a place visited when they are sick or feeling unwell.
What will our puppy parents learn?
All of the above plus so much more!! We also hold a theory session, where new puppy owners attend without their new furry family member. The aim of our theory session is to help owners understand canine behavioural learning, what socialisation really means for dog, why dog parks may not be recommended, tips of preventing resource guarding and toileting training.
Please call our reception team on 9999 2269 to book a spot in puppy school.
PLEASE NOTE: that during the Covid-19 Pandemic, we have had to alter the way we run our Puppy School program. This is for the safety of all our puppy parents, plus our trainer Tara. Changes will continue to evolve in response to the Australian Government guidelines.
[gravityform id="7″ title="true" description="true"]
Acquired a puppy or rescue dog during the covid-19 pandemic?
While getting a puppy now may seem like the perfect time, the current COVID-19 climate poses a few very serious challenges, that, if not managed carefully could lead to a lifetime of distressing behaviour problems for your dog. Local dog trainer, Libby Young from The Sound Hound, has put together a great information sheet on "Preventing Separation Distress In Puppies While In Isolation"
Further information Puppy Socialisation and Environmental Exposure can also be found here
Why attend our puppy school?
We have been running Puppy School at Mona Vale Vets for the past 20 years. We were one of the first Puppy Schools on the Northern Beaches. Our classes have developed over this time to represent the most up to date canine behaviour training.
Our Puppy School runs on a very basic ethos, where all puppies are treated individually and are taught using positive training methods to help build their confidence and develop their skills. Puppy training is different to adult dog training, so additional courses are attended by our Puppy School Instructors to specialise in Puppy Training.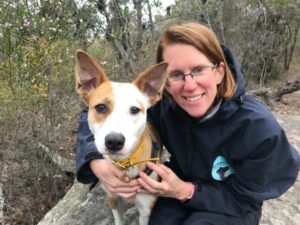 Puppies are new to our world and so need to learn the rules and boundaries we choose, to make our lives together a comfortable and enjoyable existence. We get greater results using positive based training methods to guide puppies to adulthood. These methods are far more enjoyable and more rewarding for your puppy, encouraging them to repeat good behaviours they are rewarded for.
Our qualified trainer Tara is experienced and keep their tool bag up to date with the current training methods. Puppy training, and more importantly CANINE LEARNING THEORY has developed immensely over the last 10 years. Dog trainers, animal behaviourists, veterinarians, veterinary technicians, animal psychologists, professors and many other professionals in the animal world have learnt so much about canine development and learning through thorough studies, observations and research. In our puppy school we hope to pass on that learning to you in the best possible way, using fun and informative techniques.
PLAY is an important part of learning and development. We like to use play to help you develop a very fulfilling relationship with you dog. We hope to teach you how to play with your dog effectively. We use games such as tug-of-war and hide and seek to get you enjoying the best time of your dogs life.