Caring for our native wildlife
We care for all native wildlife and provide veterinary treatment free of charge. From basic nursing care, pain relief, fluid therapy and anti-biotic treatment, through to surgical procedures. We work closely together with various wildlife groups such as WIRES and Sydney Wildlife Rescue.
If you find any injured wildlife you can contact WIRES on 13 00 094 737 (13 000 WIRES) or Sydney Wildlife Service on 9413 4300. They will give you advice on what to do until a trained rescuer comes to take the animal to a vet or carer. In circumstances where you cannot get in touch with either WIRES or Sydney Wildlife, you can contact us on 9999 2269 or bring the animal to our hospital.
---
SAFE Rehoming Rescue:
Sydney's Animals For Everyone (SAFE) is a fully registered, not-for-profit charity dedicated to rehoming animals in need. The team are dedicated animal lovers trying to make a difference. Cats are available for adoption from SAFE Haven, the rehoming centre in Roseville where the team also offers premium boarding for cats. SAFE cares for dogs until adoption through a network of foster carers.
At Mona Vale Vet we provide heavily discounted services and treatments to the SAFE Rehoming animals, such as desexing, vaccinations and health checks.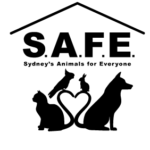 ---
Assistance Dogs Australia (ADA) :
Assistance Dogs Australia is a national charity which trains Labradors and Golden Retrievers to help people with disabilities, providing them with greater freedom and independence.
They provide a free service to people with disabilities such as cerebral palsy and spina bifida, multiple sclerosis and those who have been in tragic accidents and will never walk again. They provide dogs for children with autism, people living with post-traumatic stress disorder (PTSD) and people living with dementia.
Each Assistance Dog takes 2 years to train and requires an investment of over $30,000 – however Assistance Dogs are provided to people living with disabilities free of charge throughout Australia.
On Sunday the 25th of August 2019 the Mona Vale Vet team sponsored ADA through taking part in the Annual Northern Beaches Pub 2 Pub Fun Run and Walk, a 13km race from Dee Why Beach to Newport Beach. A total of $11322.00 was raised by the MVVH team and a bunch of very generous supporters for this great cause!
** Unfortunately due to the Covid-19 pandemic, the 2020 Pub 2 Pub was cancelled
---
Teaching the community about caring for pets:
Every year, one of our dedicated vets, often ably accompanied by one of our support staff, tours the local community to help raise awareness of how best to keep pets happy and healthy.
In July 2018, Dr Jenny and Boston terrier, Nelson visited little ThinkersInq preschool at Terry Hills. Dr Jenny chatted with the youngsters about the needs of our pets & how vets can help them look after their pets at home. A lovely day was had by all in the sunshine and it was a great opportunity for the little ones to get some one on one pats with a dog so friendly and calm like Nelson.
If you would like us to present a talk about pets or help out at a pet related activity, please get in touch! We love the opportunity to serve our community in this way!
---
Guide Dogs NSW/ACT:
Mona Vale Veterinary Hospital has a number of clients who use the services of a Guide Dog or raise Guide Dog puppies in their homes before they undergo their training programs. On a regular basis we provide discounted services to Guide Dog families and their pets.
In 2016, a total of $2293.00 was raised by the Mona Vale Vet team, through taking part in the Annual Northern Beaches Pub 2 Pub Fun Run, raising money for Guide Dogs NSW/ACT. This funds raised went towards providing enrichment and play equipment for all the puppies born at the Guide Dogs centre.
---
Australian Reptile Park Anti-Venom Program
We are affiliated with The Australian Reptile Park, by being a drop off point for Funnel Web Spiders.
These spiders are collected by rangers on a weekly basis and sent to the Reptile Park on the Central Coast for Ranger's to use as part of the milking program for the production of anti-venom.
Funnel-webs are deadly venomous and extreme caution should be used to safely catch one. Reduce the risk of a bite by wearing gardening gloves and long trousers tucked into socks with sturdy shoes or boots. Find a glass jar with a wide mouth, remove the lid and pierce the top with air holes.
Invert the jar over the spider. When the spider is within the jar, slide a piece of heavy cardboard or solid plastic under the opening to completely cover it. Invert the jar, keeping the top covered. Check the spider is in the bottom, carefully drop a moist cotton bud into the jar with the spider, then put on the lid.
More information on how to safely catch a spider, first aid for spider bites and local drop off points can be found on the Australian Reptile Park Website